Recently in Freebies Category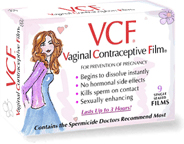 As you may not be aware I am a huge fan of contraceptive films. Huge! I just don't understand why anyone would want to use a gel or foam (okay I know I know there are a few reasons - not knowing about films being the biggest).
Well VCF is having a free sampler offer. Simply click through and give them your address and they will send out to you a free 3 pack. Sweet!