| | | |
| --- | --- | --- |
| | Tuesday, August 6, 2002 | --- |

"It's a sign of commitment, when you turn off the phone," Boyarsky says. "When somebody turns off their cell phone for you, it's true love."

10:36:44 PM


| | | |
| --- | --- | --- |
| | Friday, August 2, 2002 | --- |

It turns out I am not the only one endlessly intrigued by sex and the people involved in it.

10:45:54 PM




With condoms being branded by rock celebrities like Gene Simmons and major brands like Coca Cola exploring condoms it seems inevitable that there will soon be a plethora of branded condoms on the market.

Surely porn stars like Ron Jeremy, Jenna Jameson[lopp], or even Pamela Anderson would do very well by pasting their mugs, or some other part of their bodies on condoms. But who would have expected something like a condom, often presented in the most unencouraging of positions, to become a modis for the spreading of brand awareness beyond core categories.

Did you know that Coca Cola has been proven, well at least once, to be a spermicide. With the recent revelations about the spermicide Nonoxynol-9 it seems the "other" spermicide Coca Cola would be a welcome addition to world AIDS battle.

9:58:46 PM


| | | |
| --- | --- | --- |
| | Sunday, July 28, 2002 | --- |

Condomania this week is running a special sale. If you use the word "Fresh" when you check out you can buy 2 of any item and get the third item for free. Or you can get free first class shipping. If you want to take advantage of this offer you have to specify which offer you want to take advantage of in the "special instructions" field on the order form. Sssssshhhhhh I'm not supposed to tell you this.

9:33:38 PM


| | | |
| --- | --- | --- |
| | Thursday, July 25, 2002 | --- |

Steve Almond of Nerve.com has posted to Alternet a great article in which he visits the Adam & Eve, a contemporary vendor of safer sex and adult products, offices and interviews Phil Harvey the founder.

The thing that is so great about this is, news to me, that Phil actually started the company so that he could subsidize his own interest in dispensing birth control & STD knowledge and materials through out areas of the world who need help with this type of thing.
| | | |
| --- | --- | --- |
| | Tuesday, July 23, 2002 | --- |

I have started a new blog at Salon. This will be essentially a meta safersex: an explanation of why I do what I do. I'm going to try and write a biography about how I've gotten to the point where I am a single parent, webmaster for Condomania, hobbiest at The Safer Sex Page, and survivor of domestic abuse.

I have said for quite a while, to myself, that when I had the strength I would put together all of the data I had in a record. I am confident that such a gathering of materials, my writings, emails, telephone numbers, identities of the officials involved, and other incidencieries related to those tragic events in 1997 when I set foot as a man instead of the boy I had been before that, will be nothing but an asset to me in my life. Their is the distinct possibility that I will grow as a result of going through this material and finally putting some perspective to the last 5 years of changes.

I'm going to reconstruct all my piles of paperwork from the courts, the social workers, my scribbled notes, remembrances at the time, the stuff I wrote about it in poems, emails, sessions with the therapists involved, the drugs I took, the sex I had, & the discoveries I've made, etc. etc. Intergenerational sexual abuse echoes in the decisions I made. Somewhere in this mess is the reason why I feel so compelled to "drop" sex ed knowledge & force full disclosure. Noone should have to ever deal with the kind of stuff that the women in my life have had to deal with.

So welcome!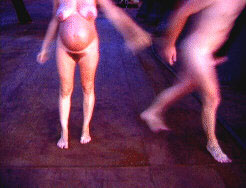 - Gottfried Straube