Sex Myths
---
I only have sex with healthy people, so I don't worry about condoms.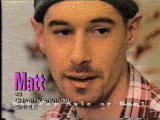 [1.3M QT] Matt: But you don't know what my status is and I don't know what your status is. We both could be infected or we might not be. Just because I look healthy and just because you look healthy doesn't mean anything. I have friends who are younger than me that are HIV+. They thought they were choosy but they weren't.

---
When I've had a lot to drink, or I'm on drugs, it sometimes seems more of an effort to stick to safer sex.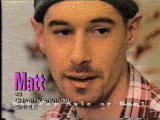 [1.2M QT] Matt: I take drugs and sometimes go out of my head. So I always think ahead and carry condoms and lube with me. And I always have them at home -- not just by the bedroom. I have them in the bathroom and the kitchen; I have them all over the place because I never know what's going to happen and so I plan ahead.

---
I just hate condoms, and I lose my hard-on if I try to use them.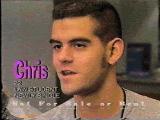 [1.7M QT] Chris: When I was 15 or 16 I remember buying a pack of condoms and having several wanks with them on. I thought it was a real turn-on at the time. I mean, definitely it was. My original thought was, you know, this is sort of a turn on, and I wanted to not look stupid the first time I ever got a chance to use it, as in not knowing how to use it or things like that.

---
It doesn't feel right to be using them with my boyfriend, and it's probably too late to start now.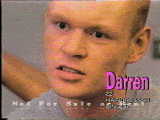 [1.4M QT] Darren: If you've got a boyfriend, it's like you can't be 100% sure they are being faithful to you. Cause mine wasn't, and that's how I got it. So, it's like, just cause you're in a relationship for maybe 6 months don't stop using them. You've got to use them all the way through.

---
I only have sex with healthy people, so I don't worry about condoms.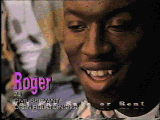 [608K QT] Roger: He might look fit, he might look healthy, but that's like, you don't know. I think you should assume every person you go to bed with is HIV+.

---
When I've had a heavy night out, it's easy to forget condoms.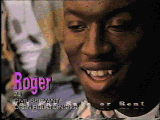 [400K QT] Roger: Be it drunk, be it drugs, or anything, it's like: No Condom, No Go.

---
Sometimes it just happens -- that's the way sex goes.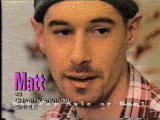 [714K QT] Matt: I know sometimes it just happens, and you're not sure. But plan ahead. I always think about these things beforehand. I know I want to go out and have sex, so I plan ahead.

---
All video clips in QuickTime format with Cinepak codec. (SGI Irix 5.2 Movieplayer won't read these.) From the video Doing It Right. A Young Gay Man's Guide to Safer Sex, available through
---
ss-admin@safersex.org (Sun Feb 5 04:06:19 1995)